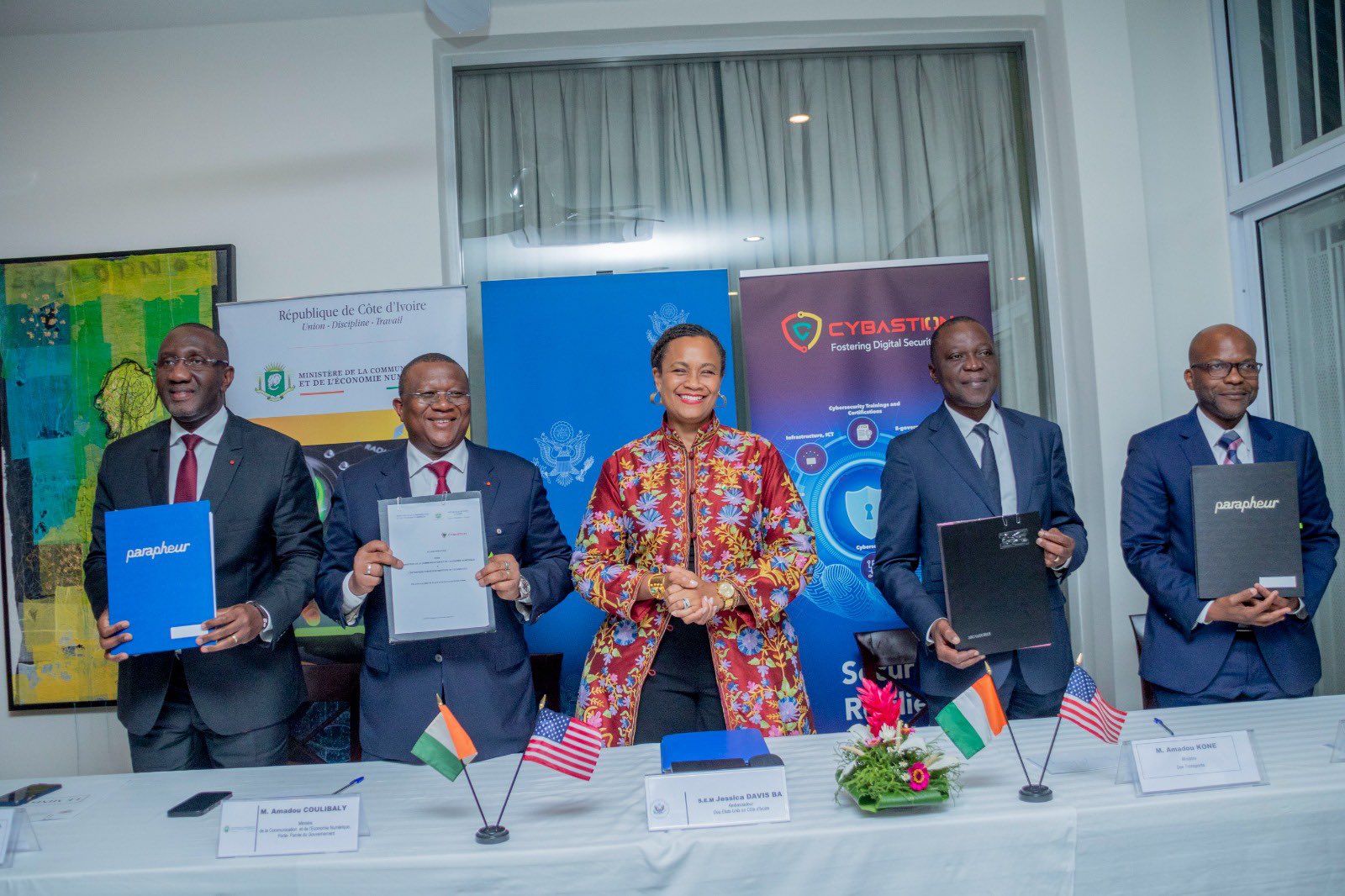 Ambassador Davis Ba's remarks on the signing of Memoranda of Understanding between Cybastion and the government of Côte d'Ivoire
June 18, 2023, Cocody, Abidjan
On behalf of the Embassy of the United States and the American people, it is my honor to extend a warm and kind welcome to all who are present this evening.
Ladies and gentlemen, we are here tonight to celebrate the strengthening of the partnership between the United States and Côte d'Ivoire.
America is known for its sense of innovation.  Since arriving in Côte d'Ivoire, I have seen that our Ivorian friends show ingenuity and a desire to transform their country into a nation at the cutting edge of technological progress.  The United States and the American people are excited to build shared, mutually reinforcing prosperity, and we stand ready to partner with Côte d'Ivoire in finding digital solutions to its challenges.
That's why we're thrilled to welcome the signing of a Memorandum of Understanding between U.S. cybersecurity innovator, Cybastion, and the Department of Transportation.  Also, Cybastion will sign two contracts, one with the Ministry of Trade, Industry and Promotion of SMEs, and the other with the Ministry of Communication and Digital Economy.
Cybastion brought to Côte d'Ivoire a consortium of the largest American companies, the leaders in the technology sector – the innovators.  They have several ongoing projects with the government of Côte d'Ivoire and are an excellent example of an American company that excels in West Africa – sometimes in difficult, sensitive markets.  At the United States-Africa Summit held in Washington in December 2022, President Biden stressed the urgent need to promote American technology in Africa.  To achieve this goal, the Department of State announced and launched the Africa Digital Initiative to improve digital access, literacy, and the digital environment in Africa.  This initiative aims to create an inclusive, secure, and resilient digital ecosystem consistent with U.S. priorities and African Union objectives.
The Digital Africa Initiative will promote trade, investment and innovation in Africa's digital economy through infrastructure investment, human capital development and supportive regulation.  During his speech at the summit, President Biden cited Cybastion as an excellent example of a cybersecurity company that supports U.S. trade and economic policies toward Africa, while serving as a model for other U.S. technology and cyber companies looking to invest in the continent.  Cybastion, as a cybersecurity vendor and systems integrator, is unique in that it leads a consortium of top U.S. technology companies, such as Cisco, Wright Core, Inc. to name a few.  I am also pleased to see Vista Bank and Cybastion echoing the U.S. commitment to tech- educating women to bridge the gap and create new job opportunities by supporting the DigiFemmes program.
Initiated by the Millennium Challenge Corporation (MCC), DigiFemmes empowers women entrepreneurs in Côte d'Ivoire to improve their digital skills, harness data, drive business growth and close gender gaps.  Digifemmes creates an enabling environment in Côte d'Ivoire to enable Ivorian women entrepreneurs to thrive in their businesses, while harnessing the power of data and digital skills. Tonight's event is proof that with commitment and a common vision, doing business in Côte d'Ivoire is possible and mutually beneficial. 
As we all know, cybersecurity threats do not stop at borders, so we must work together to meet the challenges of tomorrow.  I applaud Côte d'Ivoire's new partnership with cybersecurity company Cybastion, which aims to harness the power of innovation.  I encourage all of you to get in touch with Cybastion representatives and learn more about what this innovative American company has to offer. 
Thank you.